C-stores have a prominent place in the world of U.S. alcohol sales. 
Beer and other malt beverages, like hard seltzers and teas, accounted for the third-largest sales category for c-stores in 2021, according to Statista. Total c-store alcohol sales were up over 3% in 2022 and beer accounted for about three quarters of the growth, according to Scott Scanlon, executive vice president of beverage/alcohol at Circana.
As the holiday season approaches, when consumers will be looking for their favorite six pack of seltzer or an eye-catching seasonal beer to accompany their festivities, what will alcohol shelves and coolers look like?
In its third-quarter Beverage Bytes survey, Goldman Sachs talked to representatives from 62 alcohol distributors, which cover nearly 250,000 U.S. retail outlets, about what they're noticing in the beer and malt beverage category and what they expect to see in the coming months. 
Here's what they said:
Bud Light's pain should ease
Bud Light took a massive hit in 2023 after backlash to its marketing decision involving transgender influencer Dylan Mulvaney led to the company losing its place as the best-selling beer in America to fellow Anheuser-Busch brand Modelo. Most of the distributors polled said they believe sales for the beleaguered light beer will continue to shrink at the current rate, while a few expect sales to worsen.
But they also see a light on the horizon. About 71% of distributors believe that Bud Light will regain 1 to 2 points of its lost market share later this year or into 2024, with the largest contingent seeing the recovery coming by spring 2024. 
While almost 30% still don't think Bud Light can recover any of its lost market share, the number of optimists is up significantly from the second quarter, when about 70% didn't expect the brand to regain ground.
Molson

Coors and ready-to-drink cocktails will gain space
Distributors expect Constellation Brands and Molson Coors to take shelf and cooler space away from Anheuser-Busch during the fall as brands like Miller Light, Coors Light and Yuengling capitalize on Bud Light's troubles. 
While distributors expect the shelf and cooler space dedicated to mainstream beer to stay largely unchanged, the same can't be said for the rest of the packaged alcoholic beverage allotment. 
Ready-to-drink cocktails are expected to get more space this fall, but their gains will probably come at the expense of hard seltzers and craft beer, respondents said. 
Sam Adams loses focus on Truly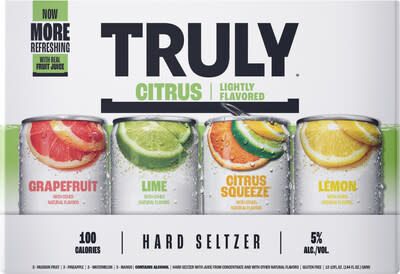 With seltzers expected to struggle, distributors see Sam Adams' Truly brand continuing to stall out. About 87% say they don't see any sign of Truly's momentum turning positive again. The Truly + Vodka variant, which has been in the market for nearly a year, hasn't helped recapture volume.
One distributor even said they thought Truly might lose its hold on the second spot among top-selling seltzers, falling to third behind White Claw and High Noon. 
Keep an eye on Twisted Tea
Some of Truly's struggles may be due to the Boston Beer Company's focus shifting to Twisted Tea. The hard iced tea, which was founded in 2001, has grown at a 30% clip lately, according to a Bloomberg report. 
Some of the reasons contributing to Twisted Tea's expected growth through the fourth quarter, distributors say, are that it's well positioned among both blue-collar workers and younger consumers
There is some concern that hard tea alternatives, like Hoop Tea or Monster's Nasty Beast Hardcore Tea, could impact Twisted Tea's growth, but impressions are mixed on how big an impact those players could have in the near term.