C-store operators this week will want to make sure their fuel tanks are full and their shelves are stocked. That's because more Americans will be hitting the road for this year's Thanksgiving holiday.
More than 49 million Americans plan to drive to their holiday destination during the five-day period spanning Wednesday through Sunday, according to AAA. That's a 1.7% increase over last year.
That finding tracks with the results of a survey fielded by fuel savings company GasBuddy. Forty-one percent out of more than 6,300 respondents polled by the company said they plan to take a road trip this week — an 8% increase over last year.
Overall, more than 55 million Americans plan to travel 50 miles or more across all forms of transportation during the holiday period, according to AAA. That's the third-highest projection the automotive and travel resource agency has put forward since 2000, and the highest since 2019, just before the COVID-19 pandemic hit.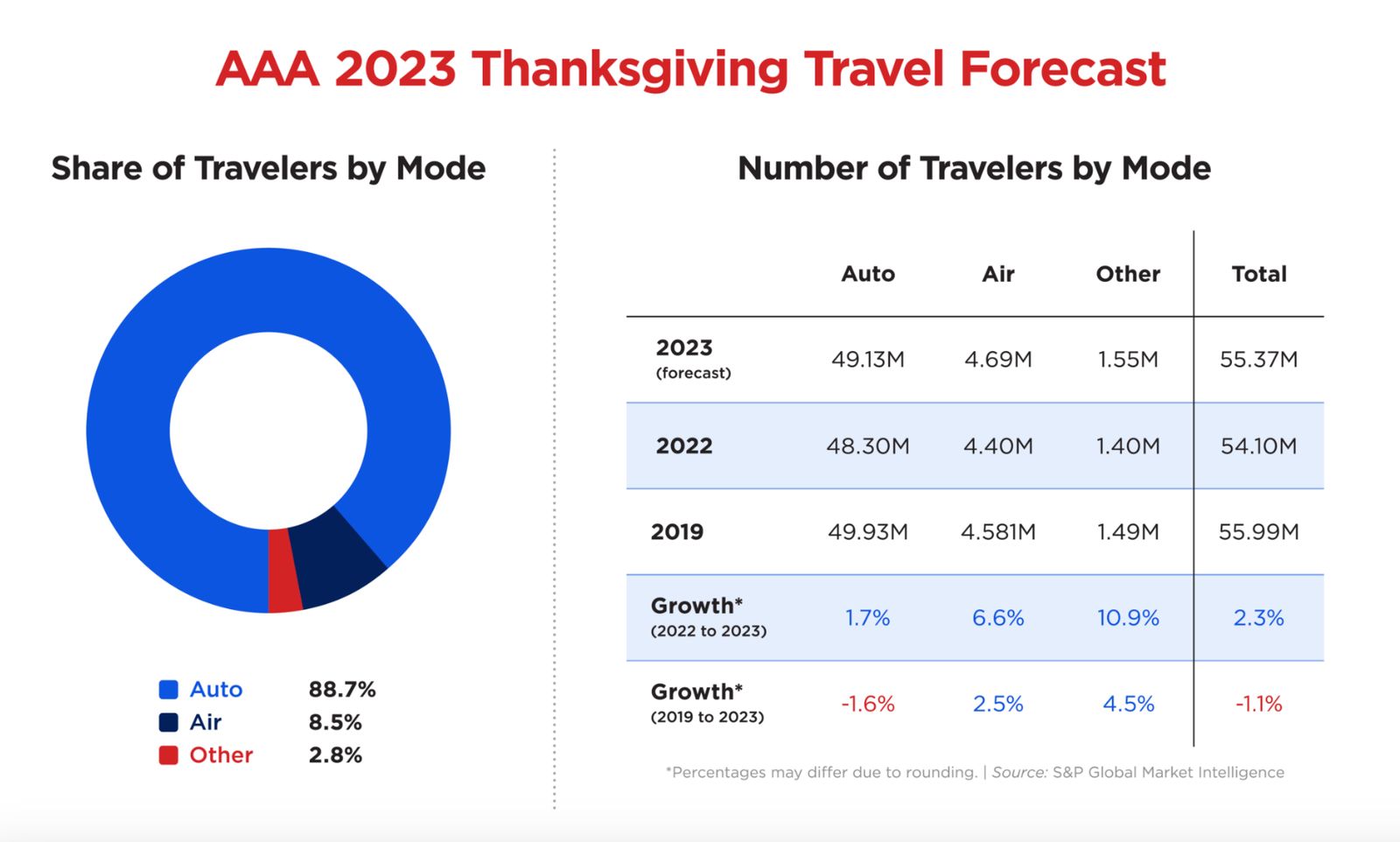 So what's behind the increase in Turkey Day travel? 
Falling gas prices appear to be playing a significant role. GasBuddy said the national average price of gas is expected to be $3.25 per gallon, which will save Americans $573 million compared to last year. The national average price peaked in mid-August, at $3.87 per gallon, according to AAA, and has been falling ever since. 
Twelve states are projected to have average gas prices below $3, according to GasBuddy.
"Average gas prices have plummeted in all 50 states in the weeks ahead of Thanksgiving, with $2.99 prices spreading like wildfire just in time for the start of the holiday season," said Patrick De Haan, head of petroleum analysis for GasBuddy, in a statement.
For every 10 Americans that will be driving this Thanksgiving holiday, roughly one will be traveling by air. Still, air travel is expected to see a higher growth rate than road travel, according to AAA, with 6.6% more travelers opting for this method of transportation year over year.