As gasoline-free convenience stores continue opening around the country, Circle K is bringing its take on the format to Chicago.
The c-store chain recently debuted its first "urban" storefront in downtown Chicago at the corner of Wells and Madison St. The "smaller, ground-floor" location, which opened Sept. 15, is roughly half the size of one of Circle K's standard highway locations, said Chris Barnes, director of communications for Circle K. It has all the food, beverage and general merchandise options found at a traditional Circle K, but comes without gas pumps or car washes. 
This marks the second urban Circle K store to hit the U.S., with the first being in Boston, according to the Chicago Sun Times. It overtakes the space from sandwich shop Pret a Manger, which closed all but one of its locations in Chicago in August 2020 due to the coronavirus pandemic. According to The Real Deal, downtown Chicago still has high storefront vacancy rates, providing an opportunity for Circle K to move in.
Barnes did not disclose how many urban storefronts Circle K plans to open in Chicago. The company's website shows 10 locations — eight listed as "coming soon," and the W. Madison Street location and one other at 1001 W. Jackson Blvd listed as open.
"In Chicago, as the downtown-area real estate market has evolved, we saw an opportunity to secure some space in a number of great locations," Barnes said. "Our offerings and programs there are tailored there to meet the needs of walk-in customers who live, shop and work in that area."
Here's a look inside Circle K's first urban storefront in downtown Chicago.
Grab and go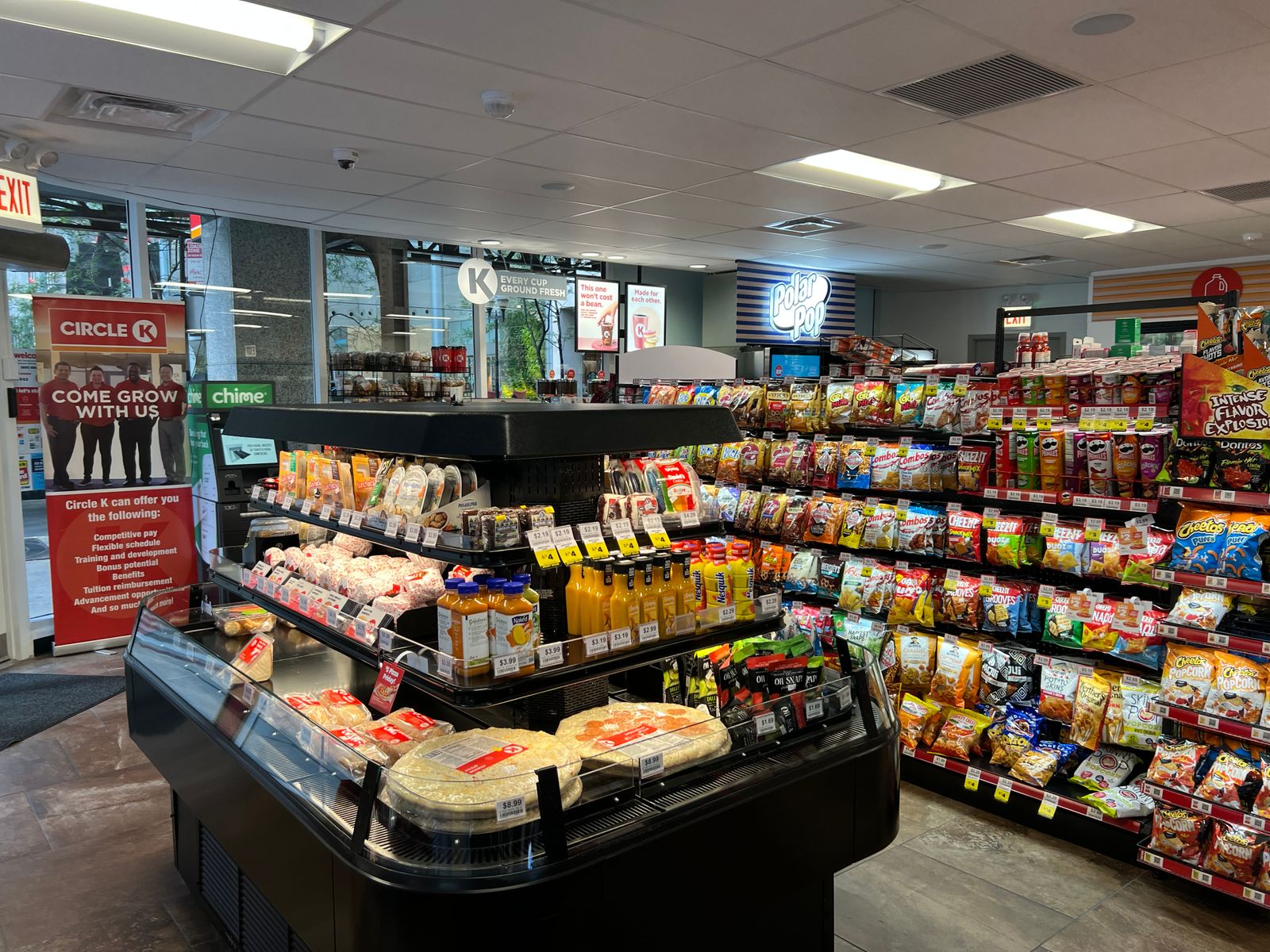 Food is the star of Circle K's new urban storefront, and patrons find this out quickly as they encounter a large grab-and-go cooler directly in front of the entrance. Here, shoppers can snag pre-made sandwiches and burgers, frozen pizza, Lunchables, cheese and cracker sets, chocolate cake, packaged pickles, juice, chocolate milk and more.
Hot and ready to eat
At the back of the store, there's an array of ready-to-eat hot burgers and sandwiches. The special of the day was an Angus bacon cheeseburger with cheddar and jack cheese, while other items available for purchase included chicken and swiss; rack o'ribs; and ham and Swiss sandwiches.
This section also has a roller grill, featuring Angus beef hot dogs, cheddar bratwursts, honey mesquite sausages, sweet and spicy smoked sausages and a classic hot dog. There's also a pizza warmer where customers can purchase individual slices of cheese and pepperoni and an assortment of other hot, ready-made items such as corn dogs, chicken tenders, chicken bites, pepperoni pizza tornados, pork egg rolls, apple pie, nachos and Bavarian pretzels. 
Private label display
Circle K is known for its large assortment of private-label products, and the new urban storefront has no shortage of the brand's proprietary items. Scattered throughout the store are Circle K branded frozen pizza and sub sandwiches, beef and cheese sticks, trail mix, gummy bears, mixed nuts, popcorn, sunflower seeds and more.
Beverage deals
Another feature of the new store is Circle K's beverage subscription program. Customers can get any fountain beverage or coffee of any size for $5.99 a month. One customer inside the store — who was also there for the first time — kept asking the cashier if the deal was legitimate because of "how cheap it is." Coffee varieties include Colombian, Harvest Spice, hazelnut, decaf and Circle K house blend coffee, with a choice of half-and-half or French vanilla creamer.
Frictionless checkout
When it's time to check out, customers have two options. They can pay at the register or use Circle K's new Smart Checkout, which the company launched earlier this summer. Customers place their selections on a platform, which recognizes the items and rings them up in one transaction. There is no need to download an app or find and scan barcodes — shoppers simply put items down, pay as they normally would and are on their way.